We've already had a few jobs go live this summer, one of which was a website design project with a new company called Bodirich.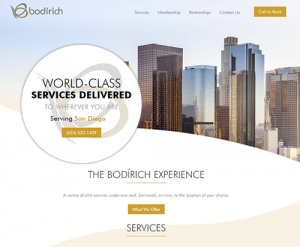 About the Brand
Bodirich is a fresh thinking brand offering a variety of elite health and wellness services, delivered on time, to a location of your choice. When you become a member, the company works with you to create a cohesive practice by recording your personal health requirements and progress.  All of their programs are personalized so that the user is paired with a perfectly capable provider. The company has a passion for health, personalization, first class service and experience.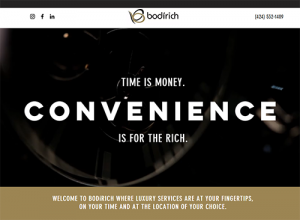 About the Project
With this venture, we were tasked with developing their entire online identity. As a new endeavor we spent a lot of time in the planning and strategy stage to really define who their potential clients were and how to communicate effectively with them. Together with the Bodirich marketing team, we reviewed and agreed on the most beneficial services to feature on the website design.  We then installed clear "call to actions" throughout the entire site; ensuring customers could easily find the information relevant to them.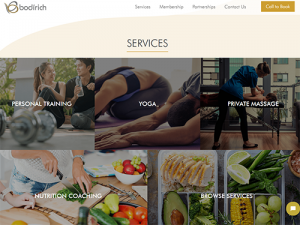 Our goal was to replicate their physical presence in the digital space. Through key planning phases, we came up with a strategy to design an eye-catching website and user interface that would instantly capture visitors and keep them engaged throughout their whole journey across bodirich.com. In the end, we developed a mobile responsive website for a consistent and practical experience. The minimalistic nature of the new website ensures ease of use on all platforms, allowing customers to book or contact quickly while on the go. The website's unique functions exemplify Bodirich's dedication to applying innovative techniques to best serve its customers. Paired with the vibrant, lively design of the site, visitors can easily see that they're being treated by progressive and caring practitioners.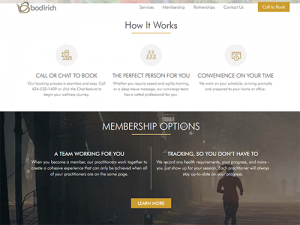 To help their internal marketing team with administration, we opted for a WordPress build, allowing the company to access all individual pages, and make changes as they see fit. Everything was really thought out; from the vibrant color palette and stylized imagery.  The completed project is truly a thing of beauty. We especially love the simplicity and timelessness of the design. There's lots of charming content, imagery and finishes making the whole online experience consistent with the brands message. Together we created an awesome website that BodiRich can totally show off. It was a fun project to work on. We even had the chance to sample some of their services and they're pretty legit! Have a look for yourself here.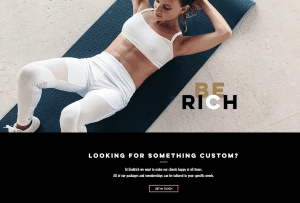 For more case studies, check out our portfolio here.