Web Design Los Angeles: Responsive Websites and Web Development
Update: Ever since Covid, eCommerce web design has boomed in demand with requests up nearly 300% for Shopify or Magento websites. We are excited to announce that https://www.bodno.com is now on Shopify with blazing-fast load speeds!
Falcon Marketing is a web design agency that is based in North Hollywood, specializing in Web Design, APP Development, and SEO.
Find the Best Web Design Los Angeles Company for You
With so many web design Los Angeles agencies to choose from and a never-ending list of factors to consider, selecting the best web development company in Los Angeles for your business can be a difficult decision.
Here's what you need to know to ensure you hire the best web design Los Angeles agency.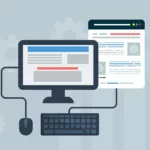 The Difference Between Web Design and Web Development
One of the most common requests that companies like Falcon Marketing receive is for a new website, a website redesign, or custom web development. Although the wording typically doesn't fully explain the clients' ask, it definitely will give us a sense of what they are looking for. Here they are explained:
Web Design

Technically, web design refers to the graphical and UI/UX (user interface, user experience) portion of creating a website. Think of a website as a 3 layer cake: the "front end" is the external top layer of the cake. This is everything viewers of the website will see on their mobile or desktop device. Design is sometimes one of the most difficult parts of web design, as just having a good-looking or beautiful website does not mean that the website will behave the way it is intended to. For example, an eCommerce website can vary in effectiveness based on how the website is laid out or is interacted with, with a high sensitivity to small changes such as a button or element in a different place, color or style.

Web Development

The lowest layer of the cake, or the underlying code is the most important of all elements, but can only follow the top layers. Think of this as the base of the cake, the structural integrity, and the allowance for interaction, responsiveness, and processes.  We sometimes refer to development as anything the website will need to perform, or "think", which would be server-side web development, such as processing a credit card transaction and checking with Visa to see if it is an approved transaction by pinging their server via API – fetching information from one place and bringing it back to the website to process and output the decision of "decline" or "approved".
Web design is all about the look and feel of a website. It's like creating the visual identity for your website. Imagine you're designing a house – web design is like choosing the color palette, furniture, and overall ambiance of each room. A web designer will work with you to create an aesthetically pleasing and user-friendly website that matches your brand's identity. They'll take care of the layout, color scheme, typography, and overall visual design of the website. Think of web design as the artist who paints the canvas for your website.
Web development, on the other hand, is more like the builder who constructs your house's foundation, walls, and roof. Web development is responsible for the technical aspects of the website, making sure that everything works correctly. Developers work on the backend of the website, coding it to function smoothly and efficiently. They create features and functionalities, such as contact forms, shopping carts, or social media integrations, making sure they work correctly. Developers are also responsible for ensuring the website's performance, making sure that it loads quickly and can handle a large volume of traffic.
Consider Your Web Development Goals
Before you start knocking on an agency's door, it's best to ask yourself what your goals are. Are you looking to inspire visitors with a bold and abstract design that leverages strength from your brand's identity? Do you want a website that's intuitive, user-friendly, and will increase conversions while boosting your search engine rankings in the process? Or, are you creating a large online marketplace that needs constant management, security, and updates?
Depending on your needs, you'll need to find an agency that not only fulfills your vision but ensures your project is a roaring success. Many agencies will be happy to work with you and develop a strategy.
1. Define your website's purpose: What do you want your website to accomplish? Do you want to sell products or services, generate leads, or provide information to your audience? Define your website's purpose, so you can determine what features and functionalities your website will need.
2. Identify your target audience: Who are your target audience? What are their interests, needs, and pain points? Knowing your audience will help you tailor your website's design and content to meet their needs.
3. Determine your budget: How much are you willing to spend on web development? Knowing your budget will help you determine the scale and complexity of your website.
4. Choose a platform: There are several web development platforms available, each with its strengths and weaknesses. Consider your website's purpose, your target audience, and your budget when choosing a platform.
5. Set measurable goals: Set specific, measurable goals for your website, such as increasing traffic, generating leads, or improving conversion rates. Make sure these goals align with your business objectives.
6. Work with a professional web development team: Partner with an experienced web development team who can help you achieve your goals. They can provide valuable insights and expertise to ensure your website is built to meet your business objectives.
By following these actionable steps, you can consider your web development goals and ensure your website is built to meet your business objectives. Remember, your website is an essential tool for your business, so take the time to plan and invest in your website development to achieve your desired outcomes.
Check for Positive Reviews and Feedback
If the company you're considering has positive reviews, chances are it's worth exploring their portfolio. After reading comments others have left online, you'll be well-equipped to gauge an excellent web design service from a bad one. Good reviews paint a picture of their experience. Does the agency communicate promptly? Do they provide post-launch support? Do they value long-lasting relationships or just quick gigs? Excellent service will be evident in online testimonials. However, it's worth noting that negative reviews don't necessarily mean an agency is inexperienced. A negative review might have been left for any number of reasons. Take notice of any consistent trends with the company you're interested in and bring it up when you meet. They're likely well-aware of the feedback they've received online and may have solutions in place already.
Ready to start your web design project?
Ask the Right Questions to your Web Designer
Asking questions helps determine whether you're hiring the best agency for your needs. Also, when discussing a new project with a potential web design agency, it's best to ask firm questions immediately. This not only lets you set the tone of the discussion, but it enables you to gauge the experience and expertise of the agency you've chosen.
Can you show me some examples of your previous work?
What is your design process like?
How do you approach user experience (UX) design?
What is your approach to responsive design?
What is your pricing structure?
How do you ensure that the website is search engine optimized (SEO)?
What is your process for ongoing maintenance and support?
A lack of communication or commitment displays inexperience, while speedy replies and a confident, honest approach show signs of professional experience.
How Does the Agency Track Results and Measure Success?
Good questions to ask include: Who will manage my account, and what experience do they have with SEO and are they a specialized digital marketing company? How many clients do you currently work with? Do you provide post-launch support, such as improved SEO, social media marketing, and content creation?
Understanding how an agency measures its own success will provide a better idea of the service you will likely receive.
Keyword Rankings: Tracking keyword rankings is an essential way to measure SEO success. By monitoring the rankings of targeted keywords, an SEO agency can see the progress of their optimization efforts.
Organic Traffic: Tracking organic traffic is a vital metric to measure SEO success. By monitoring the traffic coming from search engines, an SEO agency can see if their efforts are driving more traffic to the website.
Click-Through Rates (CTR): CTR is the ratio of clicks to impressions on search engine results pages (SERPs). By monitoring CTR, an SEO agency can see if their efforts are increasing the website's visibility and attracting more clicks.
Conversion Rates: Conversions are actions taken by website visitors that align with business objectives. By monitoring conversion rates, an SEO agency can see if their efforts are driving more conversions and ultimately delivering more business value.
Backlinks: Backlinks are links from other websites that point to your website. By monitoring the number and quality of backlinks, an SEO agency can see if their link-building efforts are improving the website's authority and search engine visibility.
Tools: An SEO agency should use a range of tools to track results and measure success. Some popular tools include Google Analytics, Google Search Console, SEMrush, and Ahrefs. These tools provide valuable data and insights to help monitor progress and make data-driven decisions.
Look for Similar Interests and Compatibilities
An agency that specializes in creating websites for restaurants may not have the experience to launch a dedicated online e-commerce website. Try to align your interests with the interests of a web design agency. The more compatible you are, the more capable and passionate the agency will be about your project.
Additionally, workplace culture is also important. For example, do you only operate 9-5, or does your next website need 24-7 access and communication? Your site's success, as well as the duration of the entire project as a whole, is influenced by an agency's work environment.
Web Design Agency Los Angeles: Find the Best Website Development company for your Needs
LA is brimming with web design companies. However, finding the perfect web design Los Angeles agency can be tricky. By asking key questions and performing a bit of internet research, you'll be able to hone in on a service that fits your needs.
Marketing Company Los Angeles
Would you like more advice on finding the best web design agency in Los Angeles? Get in touch to learn more.
Here are some of our ways to get links from SEO partners:
Guest Blogging: Writing high-quality guest posts on relevant websites can help a company get do-follow links. However, it's important to ensure that the guest posts are informative and add value to the website's audience.
Broken Link Building: Broken link building involves finding broken links on other websites and reaching out to the website owner to suggest replacing the broken link with a link to your website. It's an effective way to get high-quality do-follow links without resorting to black hat tactics.
Content Marketing: Creating high-quality, informative content that other websites will want to link to is an effective way to get do-follow links naturally. However, it's important to ensure that the content is relevant and valuable to the target audience.
Social Media Promotion: Sharing content on social media platforms can attract links naturally. It's important to ensure that the content is shareable and valuable to the target audience.
Collaboration with Influencers: Partnering with influencers in the company's industry can attract do-follow links naturally. However, it's important to ensure that the collaboration is genuine and provides value to both parties.