Law firm SEO, or SEO for the legal industry is extremely competitive, possibly one of the most competitive industries from an online marketing perspective due to the potential value of a case and how lucrative a single lead can be for the law firm.
When analyzing the SEO profiles of some of the top law firm websites that do rank in Google's top 10 it is clear that some of the abnormally fast results are caused by grey hat / black hat SEO methods that don't adhere to the Google Webmaster Guidelines. With that in mind, here is an analysis of the top 5 law firms who rank highest for the keyword "personal injury lawyer". This keyword, in particular, is arguably the most important keyword a law firm can rank for in this particular industry, at least from an SEO and PPC perspective:
Keywords and Their Authority
To make the most out of your law firm's SEO experience and boost its online presence, new visitor engagement is a must. But just what is it that drives new users and potential clientele to your website? A detailed strategy that optimizes the code, design and various other elements of your website can help secure relevant and valuable traffic directly to your platform. 
New visitors are gained through the use of search terms, better known as keywords. Keywords can help boost the visibility and online presence of your website, and they can be built into a site using a number of techniques as they can be dispersed throughout the code, formatting, headers, links and content writing which will eventually solidify the strength of your digital marketing campaign.
When someone looks up specific terms relating to the legal industry such as "Personal Injury Lawyer" or "Litigation Attorney" these keywords will help direct new visitors to your site through their preferred search engine. There are a couple of major search engines common in the industry today, but arguably the largest and most important one when it comes to online exposure is Google. Strategic use and optimization of keywords throughout your SEO campaign can help your legal practice increase your authority in the field and begin climbing up in the search result rankings with ease. In the competitive legal industry, there will be a variety of factors that make up the success of your website's SEO, but keywords are a part of the core backbone of your website's digital marketing campaign. 
However, it's always important to have a reputable company work on your law firm's SEO as every web page will be examined regularly by Google spiders (bots) crawling the web across billions of web links searching for the most relevant content. By inspecting the code and images present on your website, it can then be ranked by spiders across 200 different factors, allowing it to be indexed into the search engine. Just one thing to note about these search engine spiders, however, if you have too many dead-end links or errors on your page they can ding you and affect the greater visibility of your page.
Links and your Law Firm SEO
When it comes to hiring a lawyer no one wants to be backed by an attorney who is seen as untrustworthy, and frankly, the same thing goes for any attorney's web page. All top 5 "personal injury lawyer" web pages have extensive external link and backlink data which allows their web presence to be boosted organically and help establish the site as trustworthy and reputable in the eyes of a search engine.  
It's almost like having a referral from your neighbor. The more people who know who you are and are willing to talk about you, the less likely that you would be considered as untrustworthy. However, it isn't always about just how many numbers you have when it comes to links. The quality of your website's links is a telltale indicator of your sites overall performance.
 Quality over quantity is always key as Google can ding your site if it finds any aggressive or spammy link tactics being implemented by your campaign.  Rather than having your website's ranking be a one and done on the search engine leaderboard, links and backlinks can help give an extra boost to your law firm's web presence and help determine the reputability in the eyes of search engines. Always try and get your links from high-quality sites that are relevant to your law practice and can be considered a credible resource to your potential clients. This tells the search engine that you have done your research and helps avoid your rank crashing in the long run from low-quality directories. 
That being said, the quality of your links isn't the only thing that's being analyzed. Google also factors in just how those links were acquired which can end up being a slippery slope as you manage your SEO campaign going forward. The best backlinks are ones that are earned organically and contain the keywords you're looking to acquire in the long-run.
To Buy or Not To Buy?
When it comes to the Legal industry it's survival of the fittest when it comes to staying relevant with your marketing campaign. This may lead you to want to invest money into getting your site some nice paid links and in doing so back up your website's reputation both quickly and easily. 
But be aware…
There's no hiding Google's strong dislike of paid links, so much so that it's even written inside their quality guidelines! If you suddenly spring onto the rankings with hundreds of paid links your site is quickly going to be under some suspicion and have it's ranking negatively affected. 
Before purchasing any paid links consider how much relevant traffic your site will receive from it. Will the links provide you with new potential clients or will it stay hidden behind a wall of irrelevant forum posts? If you're only purchasing links to boost your search engine rankings always consider the risk factors and long term goals as you continue to build up a clientele for your law firm.
Making Headway with Headings
Headings are used for development and some general organizational purposes on your site, but these specifics tags can also be read by search engines and help them to find your page and determine whether it's worth ranking. In the below example we see the keyword "Personal Injury Lawyer" highlighted in several of the site's heading tags which allow them to appear much higher in the rankings.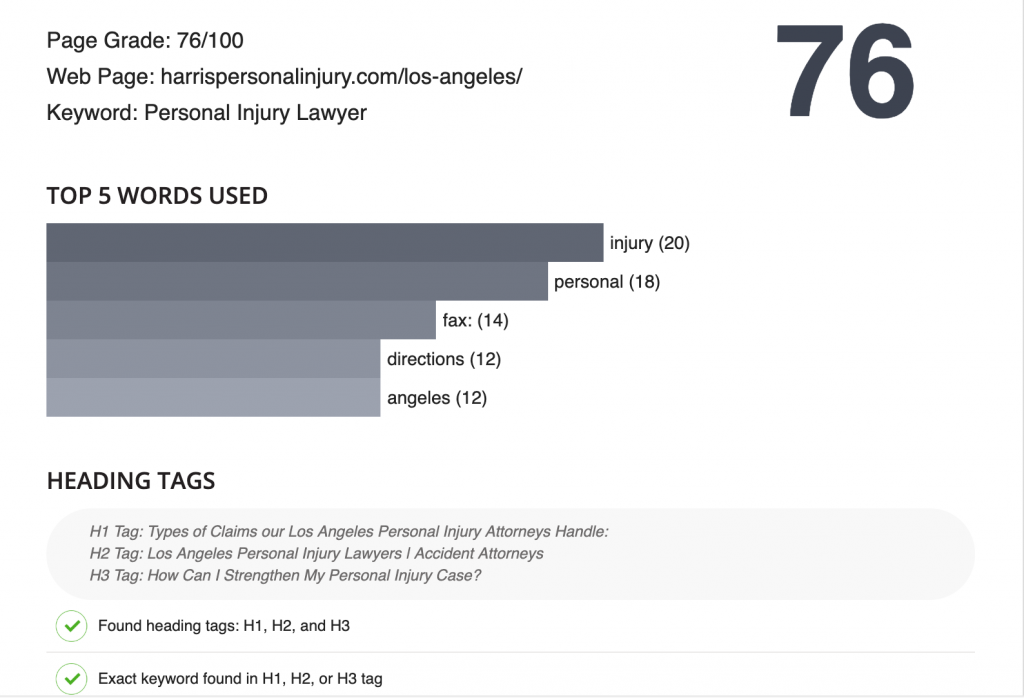 Always remember that your state's bar association may have put into place regulations relating to the rights of both the public and it's advertisers when it comes to attorney marketing. When advertising as a lawyer: 
-Never information that can be construed as misleading.
-Never guarantee an outcome for your clients, potential or otherwise.
-And never claim to be an expert without the proper certification and approval of your state's bar.
As a respectable profession, lawyers can be held to a higher standard when it comes to an advertisement in comparison to other industries. There is a lot more at stake for an attorney's office if their reputation takes a hit from not placing the necessary disclaimers on their site. Please keep this in mind while continuing your SEO marketing campaign.
Below are some more in-depth examples of the most successful keyword campaigns that just two of the above law firms rank for. When doing keyword research to find out which terms you want to rank highest for, it's important to compare the volume with the traffic that they keyword receives. The volume simply represents the number of times a phrase has been searched that matches the keywords whereas the traffic represents the percentage of people that found the website through that given link. If the keyword happens to be high volume and it receives a significant percentage of traffic, chances are it's a highly sought after and competitive keyword. See the tables below for other terms you may want to consider when building a law firm SEO campaign.
| | | | | |
| --- | --- | --- | --- | --- |
| fararlawgroup.com | Top Keywords | | Volume | Traffic |
| 1 | los angeles car accident lawyer | | 1,900 | 26.80% |
| 2 | los angeles personal injury attorney | | 5,400 | 14.52% |
| 3 | los angeles personal injury lawyer | | 1,900 | 7.38% |
| | | | | |
| --- | --- | --- | --- | --- |
| baumgartnerlawyers.com | Top Keywords | | Volume | Traffic |
| 1 | personal injury lawyer | | 40,500 | 36.37% |
| 2 | injury lawyer | | 18,100 | 16.25% |
| 3 | injury attorney | | 9,900 | 8.89% |