When it comes to online presence and web design, your website acts as your company's window to the world. It's how your clients, partners, and competitors are going to gauge the success and sustainability of your business. There are many key factors that individuals and organizations look at to determine this rating of success and trustworthiness, and these criteria can vary greatly from industry to industry. Today we're going to look at the standards, best practices, and important key factors to look at when purchasing a site in the contracting/construction field. Here at Falcon Marketing we have extensive experience in the contracting industry and can speak first-hand about how important it is to vet a website development company and their methods and practices before hiring them for your general contracting or home construction company.
Design
The outward aesthetics of a web page is just as important as any internal factors. Regardless of if your site shows up well in regards to SEO and you've got a high visitor count, there will be a low retention count and lead generation if you don't have a professional and contemporary design. We've compiled a checklist of some questions you should ask yourself about when viewing a portfolio page a company has presented to you in order to find the best contractor websites.
Is the website sleek, modern, clean and clear in its intention and image?
Is the work of the company showcased well in the initial landing page? Is there an easy way for me to see and access the rest of their previous portfolio work?
How and where is the companies' logo presented? Branding is key to a memorable website and the design should flow and match with the style of the logo.
Do the buttons and titles blend with the design and entice you to click them without being overly busy?
Some of these factors may be out of the web designer's control as clients may be adamant about wanting specific elements or breaking the branding guidelines and initial design. As a rule of thumb, however, these factors are good to keep in mind when picking the company that you're entrusting to match your company's high standards.
SEO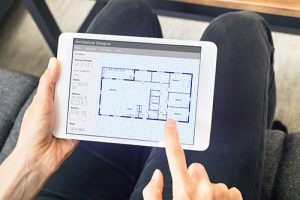 SEO (Search Engine Optimization) is integral to accruing new clientele and getting the most of your new and improved web presence. If you're investing in a website for your company complete with lead generation tools, you're going to want to make sure you appear as highly as possible for your local search results. There are hundreds upon thousands of factors that play into SEO; far too many to list here, but we've put together a brief step-by-step process to help you determine if the company you're choosing is preparing your website for optimal on-page SEO for your construction company website.
First hover over an image on the website that and inspect the item using your browser's inspect tool. Does the image have an alternate text that pops up when you hover over it? If you do get a black annotation box it means without inspecting it means that company has done their due diligence in ensuring every page has image descriptions and are optimized for SEO. Images are key in raising your SEO as many people opt to simply view Google images when positing a search term and follow the site anchor from there. Without the right keywords and indicators, your website will fall in rankings.
Does each service they offer have its own in-depth page with knowledgeable content writing and detailed information? This is extremely important as well, not only for the consumer to see what options you offer as a business, but to lead individuals to those pages through specific search terms. By doing so you "broaden your net" so to speak and can catch a larger audience searching for generalized search terms. Lastly, read through the website and see if the localized geographic location of the business is used in any on-page elements. Having location identifiers is key to having your site appear for local users, thus weeding out leads that may be out of your area and unusable for you as a business.
Lead Generation Tools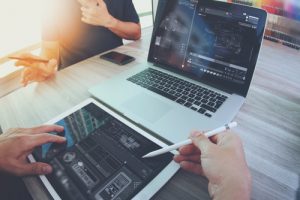 How easy is it for a user to input their information to get a prompt quote for your company? You should take a look to see how their lead generation is set up so you can either request different fields or ask for a duplicate system to work presented in their portfolio. By the same token, it should be easy for you to get those leads and utilize your website to its fullest extent; it's important to ask the developer what platform they're using to build the site and how they'll forward you the leads in real-time. Here at Falcon Marketing we prefer WordPress as the long list of capable plug-ins available for the platform allow for email forwarding of real-time leads as well as lead search in the back-end. We also offer free training on the use of the WordPress backend with every purchase of site, meaning you have complete control to make content changes as you see fit. That includes image uploads, real-time text body and title changes, as well as creation of additional pages for new services, locations, or projects.
There are clearly many factors to consider before you go ahead with an industry-specific site for your contracting or construction company website, but these guidelines apply to many other industries as well. Whether you're a realtor, business funding firm, or auto dealer, many of these points should be taken into consideration before deliberating on a web design company. One final thing to consider is that local does not always mean better; while you do want localized results for your on-page SEO, consider the fact that your web design firm does not have to be local to produce fantastic results for your business. For example, we're located in Southern California so many industry websites we've built and serviced have been localized, however, we've done work for many national companies from Colorado to New York. Being in the epicenter of the web design industry, Falcon Marketing is equipped with the best tenants of modern web design and SEO knowledge. Don't hesitate to call today for a free quote of your contracting and construction website.